June 27, 2010
This morning we said good bye to two energetic guests who have been with us for two nights.  They had a wonderful experience here on Vancouver Island as their adventure went a little like this. 
Two days ago  they boarded the B.C. Ferry at Tswassen bound for Swartz Bay as "cycle- ons"–fully equipped with the saddle bags, rain gear, water, snacks etc.  On arrival at Swartz Bay they embarked on the Penninsula section of the trail called Lochside Trail, followed it into Victoria, thru Esquimalt and on to the Goose which meanders westward thru several municipalities and into the very rural and pastoral Metchosin, then on to Sooke.  They exited the trail at Gillespie road, climbed the hill to Highway 14 and came on to us on Connie Road. 
 Their trip from Swartz Bay to us was a good 41/2 hours including a couple of rest stops.
After a well deserved soak in their private hot tub at Honeysuckle Cottage–and a nap–they were able to walk the 1/4 K to our local pub, Seventeen Mile House for an equally well deserved glass of wine and a nicely prepared dinner. 
On the 2nd day they continued on the Goose, going further west to Leechtown in the hills of Sooke and back. 
The Galloping Goose trail originally was a narrow gauge railway, built at the turn of the 19th century to facilitate the Gold Rush of the time.  Now, it is a wonderful cinder paved (in the rural areas) wide trail for cylers, walkers, runner and the horsey set as well. 
Our guest told us it was a weekend well worth doing–a good bit of exersize, some relaxation, good food and a complete change from the workaday week.
If you would like to know more about the Galloping Goose Trail, just go to the following website:
www.crd.bc.ca/parks
June 27, 2010
This morning, while preparing breakfast for our guests Sally looked out of our dining room window to see a beautiful male peacock standing on the deck with beak pressed to the window, looking back at us.  Now, this is an unusual breakfast guest.  A little later, while returning from opening the driveway gate for the day, I had to walk around the house to get in as the peacock was standing right at the back door–waiting to come in??????
Well , I guess some mornings are a little more eventful than others.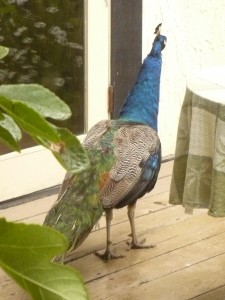 June 18, 2010
Gardens:
Victoria is known as the city of gardens. In summer, the city itself is festooned with wonderful hanging baskets and decorated with beautiful curb side plantings. There are many private gardens to see as you drive around, and several public gardens of particular note.
Finnnerty Gardens, at the University of Victoria is known for its collection of Rhododendrons. Finnerty Road
June 18, 2010
June 18, 2010
During your visit to the "Northwest" or up here the "Southwest" your itinerary will possibly take you to more than one of the beautiful regions of Washington State, British Columbia and Alberta. From our own experiences and through relationships we have fostered with other B&Bs and Hotels may we offer some suggestions as to where you might choose to stay in various towns and cities along the way. Each property has it's own style and features. Please feel free to use the links below to do your own research. There are many fine accommodations available and the following list is geared solely to provide you with a starting point for your accommodation searches. Enjoy your vacation.
BRITISH COLUMBIA
June 18, 2010
Further west is the unparalleled Botanical Beach Park with its crashing waves and fascinating tidal pools which are visible at tides less than four feet.
Bicycles are available for rent in Sooke as well, excellent for exploring the Galloping Goose Regional Trail. Exhilarate yourself on a whale watching tour with Sooke Coastal Explorations… or take a guided wilderness tour with Wilderness River Adventures, or Beyond the Edge.
Rush Adventures offers excursions for adventure-seekers, including hiking, diving, and sea kayaking.
As of 2007, the new world class soft adventure is here. Adrena Line Zipline Adventure Tours with 8 ziplines (one is 1000ft) and two suspension bridges, in the magnificent hills of North Sooke.
If Golf is your thing……to Olympic View Golf Course, or the new and spectacular Bear Mountain course, both championship courses are very nearby. For a tamer round, our 9 hole DeMamiel Creek course in Sooke might be the answer.
The folks at Eagle-Eye Wilderness in the Village of Sooke will be happy to set you up with a Salmon Fishing Charter and outfit your every need for the outdoors.
Before heading out to fish, you may wish to check the Tide Tables for Sooke or Port Renfrew.<