// BLOG
January 14, 2014
After more than 19years operating Markham House Bed and Breakfast it is time to move on. Our goal is to actually retire and  relocate closer to our children and grandchildren (of whom we will have 3 under 5 by June 2014).  This may turn into a bigger job than running a Bed and Breakfast–but we will see!!!!!
We continue to operate Markham House with love and  enjoy this very beautiful part of the world.
Markham House has been fortunate over the years to enjoy excellent business and wonderful reviews from the various rating agencies such as www.tripadvisor.com
As noted on our main site, we are on 9.73 acres in a rural setting on the south west coast of Vancouver Island.  Specifically, we are on the extreme Victoria side of Sooke,
We are about 8-10  minutes to the village of Sooke, and 15 minutes to the famous Sooke Harbour House Hotel  www.sookeharbourhouse.com  On the other side, we are a short 35 minute drive to the city of Victoria, our Capital city and only 15 minutes to the charming and fully serviced town of Langford.  www.cityoflangford.ca
You can find a lot of information on our area at www.sooke-portrenfrew.com  the official tourism website for the area.  If you are interested in the political/municipal workings of Sooke please just go to www.sooke.ca
For a full review of Markham House, photo gallery, floor plans etc. please go to www.markhamhouse.com/country-estate-for-sale/
June 27, 2010
This morning we said good bye to two energetic guests who have been with us for two nights.  They had a wonderful experience here on Vancouver Island as their adventure went a little like this. 
Two days ago  they boarded the B.C. Ferry at Tswassen bound for Swartz Bay as "cycle- ons"–fully equipped with the saddle bags, rain gear, water, snacks etc.  On arrival at Swartz Bay they embarked on the Penninsula section of the trail called Lochside Trail, followed it into Victoria, thru Esquimalt and on to the Goose which meanders westward thru several municipalities and into the very rural and pastoral Metchosin, then on to Sooke.  They exited the trail at Gillespie road, climbed the hill to Highway 14 and came on to us on Connie Road. 
 Their trip from Swartz Bay to us was a good 41/2 hours including a couple of rest stops.
After a well deserved soak in their private hot tub at Honeysuckle Cottage–and a nap–they were able to walk the 1/4 K to our local pub, Seventeen Mile House for an equally well deserved glass of wine and a nicely prepared dinner. 
On the 2nd day they continued on the Goose, going further west to Leechtown in the hills of Sooke and back. 
The Galloping Goose trail originally was a narrow gauge railway, built at the turn of the 19th century to facilitate the Gold Rush of the time.  Now, it is a wonderful cinder paved (in the rural areas) wide trail for cylers, walkers, runner and the horsey set as well. 
Our guest told us it was a weekend well worth doing–a good bit of exersize, some relaxation, good food and a complete change from the workaday week.
If you would like to know more about the Galloping Goose Trail, just go to the following website:
www.crd.bc.ca/parks
June 27, 2010
This morning, while preparing breakfast for our guests Sally looked out of our dining room window to see a beautiful male peacock standing on the deck with beak pressed to the window, looking back at us.  Now, this is an unusual breakfast guest.  A little later, while returning from opening the driveway gate for the day, I had to walk around the house to get in as the peacock was standing right at the back door–waiting to come in??????
Well , I guess some mornings are a little more eventful than others.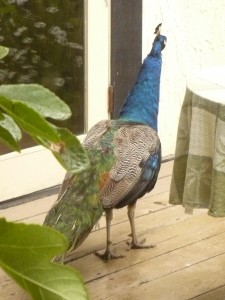 June 18, 2010
Gardens:
Victoria is known as the city of gardens. In summer, the city itself is festooned with wonderful hanging baskets and decorated with beautiful curb side plantings. There are many private gardens to see as you drive around, and several public gardens of particular note.
Abkhazi Gardens, rescued recently from the encroaching undergrowth is now a wonderful English Country strolling garden. 1964 Fairfield Road, Victoria, B.C. (250) 598-8096 | Toll Free: 1-888-738-0533
Government House, the gardens at the home of our Lieutennant Governor is open to public viewing and hosts several special events throughout the year. 1401 Rockland Avenue, close to downtown Victoria.
Hatley Castle Gardens, set on the grounds of Royal Roads University is an extensive seaside garden featuring the walled Italian Garden and the intriquing Japanese garden walk.
Finnnerty Gardens, at the University of Victoria is known for its collection of Rhododendrons. Finnerty Road
June 18, 2010
While exploring the city of Victoria, be sure to include a visit to the Royal BC Museum, which offers an expansive permanent museum collection, as well as exciting visiting exhibits, and is home to the National Geographic IMAX theatre.
Emily Carr House
, the birthplace of Emily Carr, one of Canada's most famous artists, is located downtown Victoria, just steps from the Royal BC Museum and the Provincial Legislature.
Craigdarroch Castle
offers visitors to step back in time, through a tour of the lavish Victorian-era mansion situated near downtown.
The
Art Gallery of Greater Victoria
shows a variety of works throughout the year from
their permanent collection, including Canada's own Group of Seven, in addition to works by significant contemporary artists.