Country Estate for Sale
Real Estate Property for Sale inSooke,Vancouver Island, BC
1775 Connie Road, Sooke, B.C. Canada,V9Z-1C8
Tel: 250-642-7542  fax: 250-642-7538
Toll free north america: 1-888-256-6888
Welcome to this charming, tudor style estate in the outskirts of Sooke British Columbia,
10 minutes from the Village of Sooke and 35 minutes from the centre of Victoria, our capital city.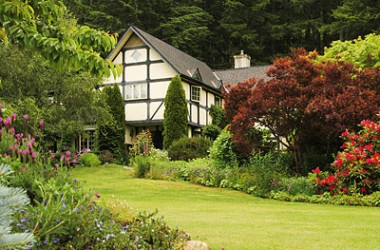 Country Acreage for sale:
9.72 Acres in a quiet valley just east of Sooke village.  There are currently approximately 3 acres of gardens, fully deer fenced and gated, and approximately 7 acres of private forest, ensuring tranquility and privacy.
Please visit www.markhamhouse.com for interests and activities in the District of Sooke. Also, you may go to our Blog for links to area attractions and localities.
Though Markham House is currently operating as a successful 4 unit country bed and breakfast, the property was originally designed as a larger, comfortable family home whose owners could pursue a variety of interests.
This country home was built in 1980 by a well qualified building inspector for his family.  His eldest son was a landscape designer and visioned the original landscape of the property
This property is mostly zoned "agricultural" permitting a variety of uses.
Detailed zoning  information can be found by contacting the District of Sooke at www.sooke.ca
Are you interested in keeping Horses, developing a sustainable cottage farm, raising chickens.
Registered farming activities can help qualify for a beneficial tax rate
For Sale:
$ 941,900.00
---
 Floor Plans: 
floor plans created by a professional graphographer.
Cottage Floor Plan Floor Plans created for Robert Buckle, Newport Realty
---
How to get here
From Swartz Bay and Sidney:
(B.C. Ferries, Anacortes Ferry and Victoria Airport) Follow Highway 17 to the McKenzie St. exit. Exit and follow McKenzie to Highway #1 North. Follow Highway #1 north to the Sooke/Port Renfrew exit (#14) . Follow this exit which will bend you over #1 and point you south on Veteran's Memorial Parkway, Highway #14 south. Follow #14 south to the intersection with Highway #14 west. Go west and follow your nose until you get out into the country. (about 15 minutes). You will see our blue and white sign on the Highway saying "Lodging, Markham House Bed & Breakfast". Immediately turn left on to Connie Road. Your destination is about ¼ mile up the road on the left – a large Tudor Style Home in a large garden.
From Downtown Victoria and Inner Harbour:
Get on to Belleville Street heading toward the city centre. Turn left onto Douglas Street. This will become Highway # 1 once through the city. Look for the Sooke/Port Renfrew exit (#14) and follow the directions above. By the way if you get to the 17 Mile House Pub on Highway 14 west, you have gone about ¼ mile too far-just turn around in their parking lot and come back to Connie Road.
From Nanaimo:
(B.C. Ferry from either Horseshoe Bay or Tsawwassen)
Follow Highway #1 South, past Duncan and over the Malahat to the Millstream exit (exit #14). This is signposted to Langford and Sooke. Take this which will put you on Veteran's Memorial Parkway–also called Highway 14 south. Follow this until you reach the intersection with Highway #14 west. Turn right and follow your nose to our sign as noted above.
---
 Photo Gallery
Guest Bedrooms, Main House:
There are three guest bedrooms in the main house, all on the second floor, and each has it's private or ensuite bathroom.  In addition there is a third floor fully finished attic currently set up with either twin or king bed.  Above the family room there is an additional king size bedroom with ensuite with shower.
 Public Areas, Main House: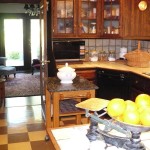 The main floor features the Living room, formal dining room, entrance hall, and country kitchen with extra deep counters,  propane stove and oven, microwave, fridge and two Bosch diswashers.
In addition there is a 12′x16′ family dining room, 2 piece bathroom, food pantry, office area, family room and laundry with great storage, sorting table,  and 2 sets for stacking washers and dryers
Guest Cottage:
Your guest cottage features 615 square feet of romantic seclusion.  There is a living room with wood stove, cable T.V. , a small kitchenette hidden in an antique armoire, a separate queen size bedroom with bathroom with double shower, ensuite.  The large deck features ample seating area and a particularly private full size Hot Tub in the open air overlooking your own private forest.
In addition,  the cottage has a full height basement storage/workshop of about 625 square feet
Cottage exterior by Andrei Federov Photography
The Gardens:
The extensive Our gardens feature private areas and patios, a broad and flat lawn ideal for larger gatherings.
Approximately 2 1/2 acres are fully deer fenced and gated–we do suffer the very occasional incursion but nothing to damage the overall appeal of the grounds.
The plantings are mostly perennial and relatively easily maintained.  Ample water for irrigation is available throughout the 2 1/2 cared for acres.
The orchard area has mostly apples and plums–wonderful in the later summer and fall.
 Infrastructure:
Heating and Cooking :
There is central forced air on the main floor of the main house, with baseboard on the 2nd floor.
In addition there is a propane fireplace in the family dining area and cooking is by propane.
In the cottage , heat is by baseboard, supplemented by a Wood Stove.
Emergency Power:
In 2011 we installed an automatic 10 KW propane powered generator to supply almost full power to the main house, including water.  (as with the old adage, "take your umbrella and it won't rain)  it is true, I think we have had a 10 minute outage since the generator was installed. Oh Well!
Water:
There are two shallow wells feeding on Veitch Creek which flows through the property.  These wells provide plenty of water for the 4 bedroom, 4 1/2 bath home, 2 laundries, and the cottage with bathroom in addition.
Though the Two  wells , when tested serve us beautiful soft water, as a precaution against "disaster" we have installed two UV and carbon filter units, 1 at the main house and one at the cottage.  The pumps in both wells have been recently replaced, 1 in 2012 and the other in December of 2013.
You will enjoy drinking the pure refreshing cool water.  It makes great tea and coffee too–no chemicals or metals.
Workshops, Greenhouse, Storage:
615 square foot workshop and storage underneath the guest cottage.
16 x 14 Wood frame Greenhouse  with heat and water for overwintering and starting plants.
 10 x13 storage room for garden implements, attached to which is the covered woodshed, and undercover parking for the garden tractors, mowers.
Unless otherwise noted, photos and text were created by Lyall Markham and are accurate to the best of my ability.