Victoria Dining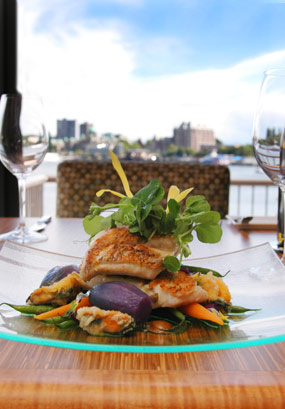 There are numerous wonderful restaurants of every style and ethnicity in and around Victoria. There are too many to list but here are a few, which we have experienced ourselves.
Brasserie L'ecole, a small French style Bistro
Camille's in Bastion Square, is more formal in style and presentation
Cafe Brio, Italian style and hugely popular
Canoe Club, on the waterfront near Chinatown-great patio to watch the activities of the inner harbour
Fairmont Empress Hotel Dining room and the Bengal Lounge.  Here is where you want to dress up a little and enjoy a special visit to the old world.  The Bengal features a wonderful Curry Buffet in an atmosphere reminiscent of the grand hotels of India.
Blue Crab Grill at the Coast Harbourside Hotel is known around town for it's excellent seafood.
Pescatore's, is near the Empress Hotel and is known for wonderful seafood presentations.
Enjoy one of Victoria's traditions, Afternoon Tea in the magnificent lobby of the famous Empress Hotel, overlooking Victoria's Inner Harbour. White Heather, in the Oak Bay area, serves a wonderfully tasty tea, and if you are at Butchart Gardens, Tea or Dinner in the dining room overlooking the Italian gardens is a treat.