Victoria Travel and Directions
Victoria Attractions
Dining in Victoria
Victoria Information from
Tourism Victoria
Victoria Arts and Entertainment
Butchart Gardens
Vancouver Island Wineries
Our Country Inn and Cottage
Kayaking on Vancouver Island
Victoria Cycling Information



We are members of these fine Victoria Hospitality associations:



Tourism BC Approved Accommodation






Markham House, rated 4½ stars by Canada Select is known as one of the best places to stay in the Sooke Region. Our small resort B & B offers a tranquil and secluded oasis in the country side of Sooke, BC. You will enjoy our private 10 acres of gardens and natural forest.
One of the "Best Bed and Breakfasts of Victoria", Vancouver Island, British Columbia, Canada.
A member of the British Columbia Bed and Breakfast Innkeepers Guild as well as many other Victoria Bed and Breakfast associations.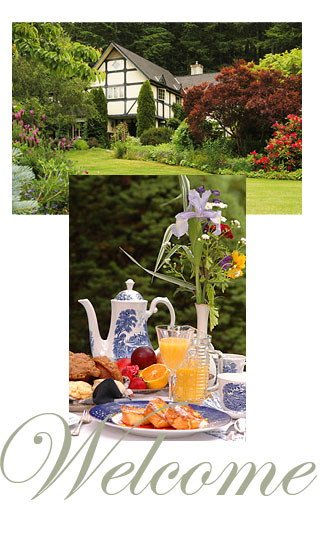 As your hosts, Sally and Lyall Markham (and Virgil) will be delighted to help you plan your itinerary while you are here and help you with restaurant and activity reservations. You may want to enjoy the wonderful Spa Services with "Le Sooke Spa" either in the privacy of your room or at their state of the art Spa.
Our Amenities and Services
.................
X close this view
Full size hot tub for your private use on patio
overlooking trout pond at main house.
Hot tub on deck of Honeysuckle Cottage
(totally private for cottage guests)
Ensuite bathrooms (one private, adjacent to room)
Cable T.V., DVD, VCR , selection of movies, in all units
Telephone in all units
Wi-Fi accessible in Main House, (Cottage Guests Welcome)
Hair dryers, in all units
Fireplaces in all units
Feather beds and down duvets in all units—NOTE:
non allergenic bedding is available on request.
Iron and board available at all times
Guest Pantry with fridge, freezer, china, cutlery, glasses, tea, coffee, juices and sodas for your exclusive use
Afternoon tea is served—depending on time of arrival
We have flexible breakfast times and are able to
cater to all dietary preferences and needs.
Golf tees and target green (clubs and balls provided)
Bocce ball and croquet available
Shopping & Parks:
Our waterfront community of Sooke, BC, is so close to Victoria and it's attractions and boutique shopping, the wine country of the Cowichan Valley Vancouver Island, and the big store shopping of our neighbouring community of Langford—yet it is a world away. The Sooke Region is amidst the best hiking, walking, cycling, beachcombing and winter storm watching on southern Vancouver Island. Our small population allows you to enjoy the beauty of our marine and mountain scenery in peace and quiet. The provincial and regional parks at French Beach, China Beach, the Juan de Fuca Trail, East Sooke Regional Park and the famous Galloping Goose Trail beckon you to be outdoors breathing the freshest of air.
If you take a local day trip to Jordan River you will find a wonderful surfing beach with lots of activity on the water. Beyond at Port Renfrew you will marvel at the abundant sea life of Botanical Beach and Botany Bay. At low tide the tidal pools showcase starfish, purple urchins, sea anemones and more. You may pick up your lunch at one of the fine bakeries and delis in the village—or taste your first Oyster Burger at Shakies at Jordan River, or the Port Renfrew Hotel at the government wharf at Port Renfrew.
Dine Around Sooke:
The village offers all the basics along with excellent dining—from the casual to the superbly elegant. The historic 17 Mile Pub, within walking distance, is over 100 years old and maintains it's original character. On the waterfront are The Fuse, casual dining by secluded Cooper's Cove, Markus' Wharfside, serves delicious Mediterranean style cuisine overlooking Sooke Harbour, and the renowned Sooke Harbour House is a dining destination for international guests.
Outdoor Adventure:
For a bit more adventure in Sooke get the adrenalin going at "Adrenal line" our world class mountain Zip line with views of the harbour and further to the majestic Olympic mountains in Washington State on the Olympic Penninsula. You may want to Kayak in the harbour with Rush adventures—visit secluded coves which can be appreciated only from the water. Whale watching is prime, with two professional whale watching companies stationed in Sooke Harbour. Both Sooke Coastal Explorations and West Coast Wildlife Adventures will show you an experience to remember.
So, Welcome to Markham House B&B and southern Vancouver Island near Victoria, BC and the village of Sooke, BC, where your vacation will provide all the activity and relaxation you are looking for.
See you soon.



Welcome to Markham House
our country estate Bed and Breakfast Inn located in Sooke, on the westcoast of Vancouver Island in British Columbia, Canada.

We are just 30 minutes west of the capital city of Victoria, BC with it's arts, culture, museums (Royal B.C. Museum, Craigdarroch Castle, Maritime Museum), shopping and fine restaurants in both Sooke, BC and Victoria, BC. The waterfront of Victoria is alive with marine activities, float planes to Vancouver, two International Ferries (the Coho and the Clipper), marinas, whale watching, and kayaking.

The Heritage style main house features three tastefully decorated guest bedrooms all with private or ensuite bathrooms, cable T.V., stereo, DVD, Telephone, and free wireless internet service. Full Gourmet breakfast is served in the formal dining room, and weather permitting on the patio overlooking the trout pond.

Honeysuckle Cottage, romantically located away from the main house on the edge of the forest features a large deck with private hot tub, living room with crackling wood stove, dining area, and quaint kitchenette hidden in an antique pine armoire. There is a separate queen size bedroom with ensuite bathroom. Cable T.V., stereo, DVD, Telephone are standard. Full gourmet breakfast will be served to your door at the time of your choice.

With Markham House as your base of activities, you will want to visit the many Gardens of the area for which Victoria Island (that is Vancouver Island) is famous. Butchart Gardens with its manicured acres is a must. Glendale Gardens displays a huge variety of native and specimen plantings, and the gardens at Royal Roads University at Hatley Castle features an ornate Italian walled garden and a seaside Japanese garden.

Now, if Salmon or Halibut fishing is your choice, some of the best boats on the island with the best guides are stationed in Sooke and Port Renfrew. We can help you arrange a charter.

Check the Weather in Sooke

Today's Currency Exchange Rate